New York has always been famous for its myriad culinary delicacies and trends. Whether it's a slice of pizza or a fresh bagel, a bowl of pho or a cronut, the city has long been one of the world's great international food marketplaces.
But where should you start?
Should you wait in line for an hour with all the tourists at Katz's for a corned beef sandwich?
Would anyone eat a "rainbow" bagel if they couldn't post it on Instagram?
And does an eatery need some sort of permission to advertise as the "world's best" anything (remember the hilarious scene in Elf with Will Ferrell)?

This curated list of great places to eat in NYC, grouped by different parts of Manhattan, should help get you started.
As New Yorkers and tour guides, we are always out and about the city looking for a great bite, so we are pleased to present some of our favorite dining options. But we must also mention that this list is by no means comprehensive and any guide claiming to be that or "definitive" is just looking for clicks. In fact, with thousands of restaurants to choose from in Manhattan alone (not to mention Brooklyn, Queens, Bronx, and Staten Island), even a curated list like this one is bound to be very narrow and subjective.
But that's the honest truth. You ask a hundred New Yorkers for their favorite restaurants and you will get a hundred unique lists. So use this as a guide for great places to eat, curated by us at CityRover, tour guides and discerning lovers of New York's culinary variety.
Now, let's eat!
Where to Eat Near WTC and 9/11 Memorial:
Manhattan's Financial District (also called "FiDi", since we love acronyms in NYC) is known for many things — its fast-talking brokers and traders, rubbing that
bronze bull for good luck, and more recently, for being the stomping grounds of rediscovered hip-hop hero Alexander Hamilton, but one thing its never been known for is its food.
Until two decades ago, Wall Street was an area you would famously avoid after work, as the entire thing would shut down like a ghost town.
Luckily this has all changed in the past 10 to 15 years, with the additions of thousands of new residents and with
them, scores of great restaurants near Wall Street and the new World Trade Center.
Hudson Eats
(225 Liberty Street)
Located just across the street from One World Trade in the redesigned Brookfield Place shopping center and public space, Hudson Eats features fourteen options of New York-born fare ranging from Asian sandwiches to downhome barbecue to farm-to-table veggies, you're sure to find something for even the pickiest eater. Try the eponymous burger at Umami Burger, the Cambodian sandwiches at Num Pang, or the pulled pork at Mighty Quinn's Barbecue.
Once you've gathered your grub, the views of the mighty Hudson from your seat can't be beat, and on nice days, there's plenty of outdoor seating near the private yachts of hedge fund managers and Russian oligarchs. Or you can do some quality people watching on the bleachers down below in the Winter Garden (look for the real palm trees!).
Dining on Stone Street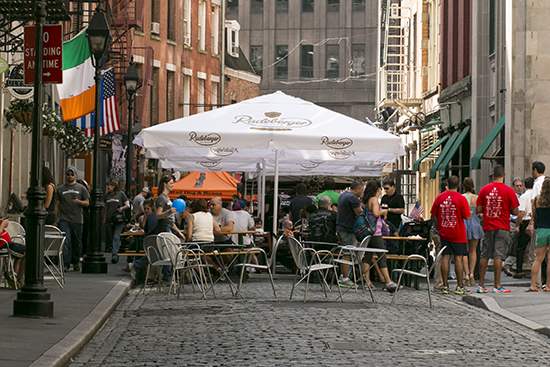 If you find yourself near Wall Street, One World Trade, the Oculus, or the 9/11 Memorial & Museum, and you get hungry, thirsty, tired, or all of the above, take a short walk to New York's first street paved with stone, aptly named "Stone Street" by the Dutch in the mid-1600s (or whatever the Dutch equivalent of that is). This quaint cobblestone street surrounded by skyscrapers offers terrific dining and drinking options, with plenty of outdoor seating in the warmer months, away from the noise and hustle and bustle of Downtown Manhattan.
Check out our detailed Stone Street dining guide to plan your lunch, happy hour, or dinner.
Malt House FiDi
9 Maiden Lane
If you're tired of walking and want to unwind with a cold pint of draft beer and good food in a spacious, trendy "gastropub" setting, head to Malt House. They feature an impressive menu of craft beer on tap, wine, and spirits, and great food options.
Kuu Ramen
20 John Street
This hole-in-the-wall ramen place is popular with the local "in-the-know" lunch crowd, and for good reason — their ramen bowls are top notch! Expect a wait during the lunch rush (usually 12pm to 2pm).
Where to Eat in New York's Chinatown: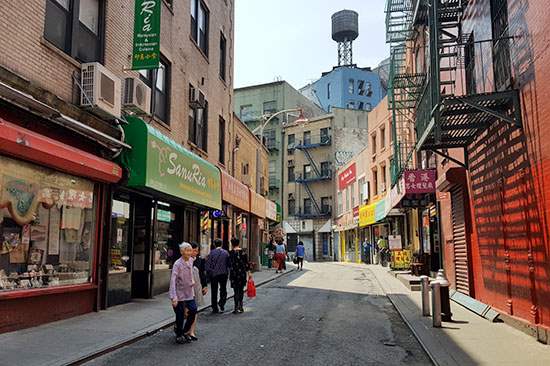 It can be hard to decipher which of Chinatown's restaurants are gems, which are just average, and which are going to be downright miserable tourist traps. As you walk through the colorful streets past the storefronts filled with roast duck and smelling of fresh fish, there are literally dozens of choices, so we've narrowed it down for you to a few of our favorites.

The Deluxe Green Bo
66 Bayard Street
This cash-only hole in the wall on Bayard Street doesn't look much different than the other restaurants lining the streets, but it does serve some of the most delicious and inexpensive Chinese food available in the neighborhood. Formerly known as the Nice Green Bo, and before that, the New Green Bo, the Bo has a well-earned reputation for some of the best soup dumplings (listed on the menu as "tiny buns") in the neighborhood. Be sure to try the steamed tiny buns with pork, but eat with care as the broth inside is hot! You'll smile at the delicious, salty flavor, but also that they only cost 5.95 for a serving of eight. From there, go wild, we recommend the fish belly in brown sauce, the shredded pork with bamboo shoots, and the eggplant with garlic sauce.
Pho Grand
277 Grand Street
Despite its nondescript entrance, Pho Grand offers an elegant selection of fresh, authentic Vietnamese
noodle and rice dishes at moderate prices. The beef, chicken, and seafood pho are all great, and if you're
new to the hearty bowls of noodle soup, have fun customizing yours with all of the traditional
condiments — beansprouts, fresh basil, and hoisin sauce. We're particularly big fans of the "Big Bowl of
Noodle Soup," which features six different types of beef with cilantro and just the right amount of onion,
for under ten dollars.
Hop Lee
16 Mott Street
Hop Lee serves up large, family-style Cantonese dishes you'd find in a Hong Kong eatery in a very casual setting with prices to match. Come here for lunch or dinner if you're looking for a no-frills, authentic, quality Chinese meal.
Best Places for Dim Sum in Chinatown: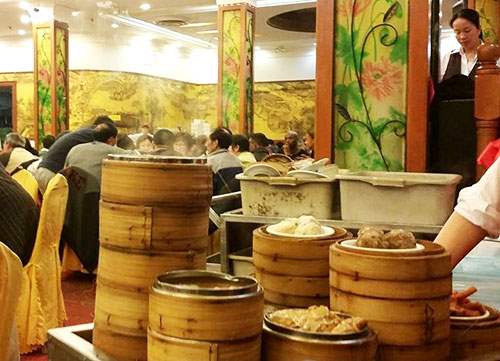 Ping's
22 Mott Street
Although Ping's is pricier than most of the other dim sum restaurants, it never fails when it comes to the quality of the food. It's also one of the few places that doesn't have stained carpets, torn up chairs, and messy bathrooms (common problems in Chinatown).
It's right in the heart of Chinatown, on Mott Street, so it's a very convenient place to eat while you're exploring the neighborhood. Many of the waiters speak some basic English, so it's relatively tourist-friendly without being a tourist trap. The shrimp dumplings ("ha gao") don't come all stuck together, and they're not stingy with the meat in their puff pastry or steamed pork buns ("cha siu so" or "cha siu bao"). You can't really go wrong with anything here.
Delight 28
28 Pell Street (near Mott Street)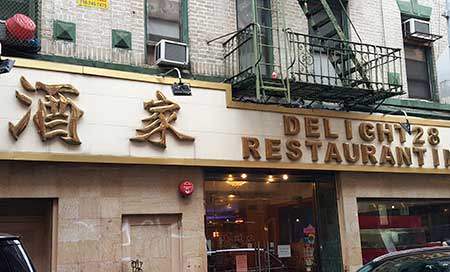 You can find Delight 28 restaurant on Pell Street, around the corner from Doyers Street (the "Bloody Angle" of gang violence of an older darker era).
Doyers Street has the famous Nom Wah Tea Parlor, the oldest dim sum house in Chinatown, and the food there is good, but it seems to cater to the young, trendy crowd and is too expensive for regular dim sum (but you do get more "American-level" service — think "Welcome!" and maybe even a smile). It's also more touristy, since it's in most guide books.
Although not as old as Nom Wah, Delight 28 has been around for years. It's old and shabby and cheap. It's no frills, classic dim sum, but what it lacks in variety, it makes up for in consistency. So many dim sum places can be great one week and terrible the next, but this place is consistently good. Try their baked pork buns (cha siu bao) and good stuffed tofu skin rolls in gravy (seen jook goon).
Big Wong
67 Mott Street
Yes, that is the actual name of this super-casual Cantonese restaurant. You can come for a hearty breakfast, lunch, or dinner. They serve single-person meals, like meat over rice or soup noodle dishes, but if you come with friends you can order dishes to share, and dine family-style. We find their "jook" (rice porridge or congee) to be outstanding. It's the most similar to congee you'd find in Hong Kong. It's usually eaten for breakfast or lunch.
The beef, squid, and pork congee with peanuts is a classic. Their Amoy "chow mai fun" (a very thin rice noodle served with pickled vegetables, shrimp, and pork) is delicious and not greasy. Their roast pork ("cha siu") is also great (it comes lukewarm, not hot). The restaurant itself is nothing fancy. Customer service is virtually non-existent. But you come here for authentic, good food at very reasonable prices.
21 Shanghai House
21 Division Street (between Bowery and Manhattan Bridge)
This one is actually a bit away from the hustle and bustle of Mott and Canal streets, which is often a relief (especially with all the fake bag and watch hawkers asking you if you'd like to buy a "Fendi" or a "Rolex").
Quick aside:
If you've contemplated waiting an hour in line for Joe's Shanghai, forget the hype and go to Shanghai House. The soup dumplings at Joe's are great, but everything else is mediocre or worse.
The soup dumplings at Shanghai house are made by hand (you can often see a lady working in the back through the glass, and the boss often jumps in to help) and they are absolutely perfect. There's always a good amount of broth inside each dumpling, the pork is nice and soft with no gristle, and the dumpling skin is nice and thin.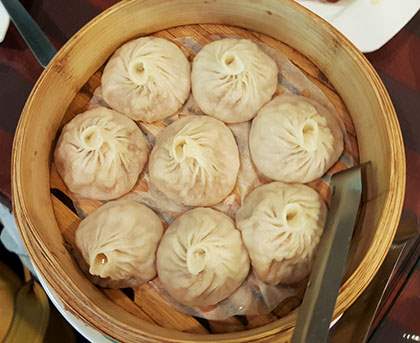 Where to Eat in Little Italy:
Over the past century, Little Italy has gradually transformed from a crowded, bustling immigrant enclave to a
mere four blocks of tourist traps. And yet there are still a few original family-run institutions there worth patronizing. These include Di Palo's for imported Italian meats and cheeses (their homemade mozzarella is to die for!), Ferrara's and Caffe Roma for coffee and Italian pastries, and even a few sit-down restaurants.
Here are two of our favorites:
Puglia
189 Hester Street
If you're looking for an unforgettable Little Italy experience, look no further than Puglia. But remember, we said unforgettable, if not necessarily "authentic." Opened in 1919 by Gregorio Garofalo, the original Puglia served Sheepshead, Tripe and Pasta Fagioli. Nowadays, the food is passable New York Italian, but it's the atmosphere, with just the right dollop of kitsch, that can't be beat. Bring the whole family to feel the old-school Italian vibes, check out the black-and-white photos on the walls, and hear Puglia's mainstay Jorge Boccio play your kitschy Italian favorites (Volare, That's Amore, etc.) on an electric keyboard, as he has for the past three decades. Start with the house calamari, move onto the Homemade Manicotti, and of course, for dessert, have the cannoli.
Aunt Jake's
151 Mulberry Street
If walking down Mulberry Street gives you your fill of Little Italy kitsch and atmosphere, but your first priorities are quality, freshness, and 21st century Italian, Aunt Jake's is the spot for you. Advertised as a "Wine Bar and Pasta Lab," Aunt Jake's knows that no one knows your tastes better than you, so even though they
make their pasta fresh every day, they let you decide how it's going to be served. Choose your pasta (tagliatelle, rigatoni, squid ink fettucine) then add your sauce (lamb ragu, puttanesca, broken meatball).
Where to Eat on Manhattan's Lower East Side:
New York's Lower East Side was once the most densely populated place on the planet, averaging 1,000 people per acre at the turn of the 20th century, many of whom were newly-arrived immigrants struggling to hold onto the traditions, music, and food of their homelands. Though the density has thankfully decreased since then, luckily, many of the great culinary legacies remain.
Russ and Daughters Café
127 Orchard Street
In 1907, Polish immigrant Joel Russ started selling schmaltz herring out of barrels to the Jewish immigrants of the Lower East Side. He later upgraded to a pushcart and finally a brick-and-mortar store in 1914. Having only daughters, he put them to work in the shop and eventually made them full partners, adding the "& Daughters" to the name in 1935, the first business in the country to do so. In 2014, Russ and Daughters world-famous appetizing store celebrated their 100th anniversary by adding a sit-down café , not far from the original appetizing store on Houston Street, which features their storied smoked fish, as well as soups, salads, egg creams, and cocktails. In the 21st century, the business is still family-run and the fourth generation still values making you feel like part of their "mishpocha" ("family" in Yiddish, once the dominant tongue of the Lower East Side).
Congee Village
100 Allen Street
Today, a significant chunk of the Lower East Side has morphed into the extension of New York's original Chinatown, so we thought our second recommendation, Congee Village, would be apropos. Although many Americans may have never heard of it, Congee is said to pre-date rice in Chinese culture and Congee Village turns out 29 different delicious versions of it. This porridge made of boiled rice and water plays the background to chicken, fish, shrimp, peanuts, sesame seeds, eggs and more and is meant to stabilize and calm the digestive tract. Congee Village was established in 1996 and is a staple for New Yorkers and intrepid tourists alike. Great for group dining, the adventurous bunch will even head down to one of the four private karaoke rooms downstairs, but not before they've tried the chicken-and-mushroom congee, the salt-and-pepper shrimp, and of course, the sautéed frog.
Where to Eat in the West Village:
Depending on when you grew up, Greenwich Village might invoke images of bongo-playing beatniks or
Blahnik-wearing fashionistas. The truth, of course, is somewhere in between. This historic district with the
most esoteric blocks in New York (the Village was established as a wealthy suburb before Manhattan's grid
plan was implemented) also has some of its most esoteric and delicious dining options for every palate.
Bleecker St. Pizza
71 7th Ave. South
Often cited as "the best slice in the city" (there is an ongoing rivalry with nearby neighbor, Joe's) Bleecker
St. Pizza has everything you could want in a classic New York slice including a great story behind it.
Founded in 2004 by Douglas Greenwood, a retired police captain suffering from health issues resulting
from his help in the September 11th relief efforts, Bleecker Street Pizza went live in 2004 and soon started
earning praise from police, firefighters, celebrities, as well as the Food Network, who voted it "Best
Pizza" three years in a row. Greenwood, unfortunately, didn't survive to see the expansion into a sit-
down place, but you can pay tribute to him (and your own taste buds) by trying the Nonna Maria slice, an
exemplary piece of thin-crust New York pizza perfectly topped with mozzarella, marinara, parmesan, and
basil.
For added "New York flavor", you can enjoy your slice while feeling the rumblings of the 1 subway line below your feet.
Taqueria Empellon
230 West 4th street
Taqueria Empellon (pronounced "em-peh-yon") is an innovative West Village Mexican spot featuring such unique taco fillings as pastrami, red chile duck, and lamb barbacoa. Chef Alex Stupak is a true experimentalist, and you are the benefactor. Everything here is high-quality, including their daily taco specials, which include crab cake, brisket, and head cheese. Try something new and exciting, accompanied by something reliable, like a michelada or a Tecate. Also great for brunch and happy hour.
But don't even think about leaving the area without visiting Cornelia Street, which is only one block long. While this quaint street has lost many neighborhood staples over the last few years — the latest hit was the closure of Cornelia Street Cafe after 40 years on the block — due to ridiculously high commercial rents, it is still home to a few of our favorites:
Palma
28 Cornelia Street; 212-691-2223. View menus here.
Lunch and dinner daily except Monday (dinner only). Reservations are recommended.
Palma is a long-time, family-run mainstay for great Italian food in an inviting setting. Palma's cozy vibe and old-world charm, including a converted carriage house circa 1810 for private parties, ensures you'll enjoy a great meal. And they pride themselves on using traditional Italian recipes. But if you get there when they are full and have to wait for a table, head to their wine and cocktail bar next door:
Aperitivo di palma
30 Cornelia Street (wine bar next door)
Pearl Oyster Bar
18 Cornelia Street; 212-691-8211. View lunch and dinner menus here.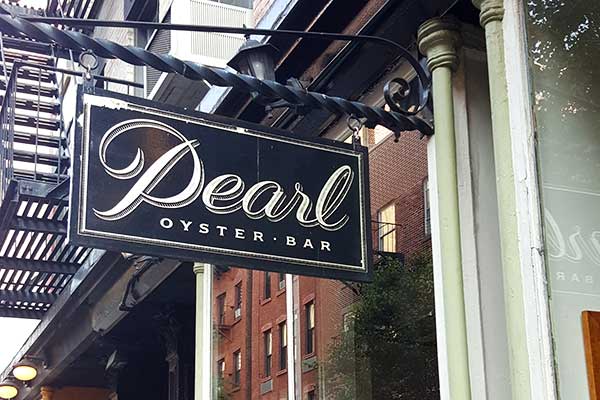 Open for lunch and dinner Monday through Saturday (dinner only on Saturday). Closed on Sunday. No reservations.
Not in the mood for Italian? Then come to Pearl Oyster Bar for a great oyster house/"seafood shack" experience. Pearl has been dazzling diners with its impressive raw bar menu since 1997. Mouth-watering lobster rolls, fish, clams, shrimp, and of course, lots of fresh oysters. Pair that with a nice glass of wine at the bar or at one of the tables.
Le Gigot
18 Cornelia Street; 212-627-3737. View menus here.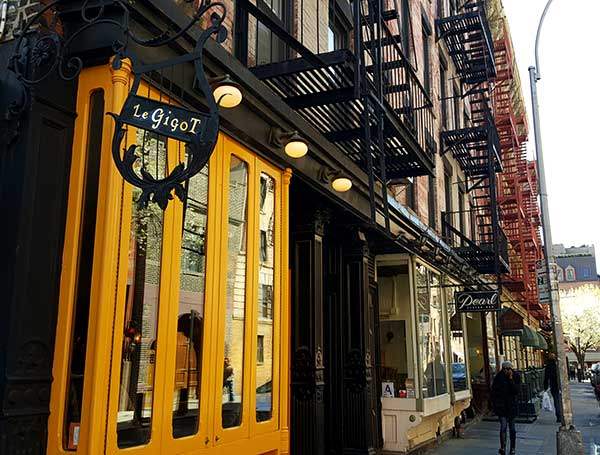 Open for lunch and dinner Tuesday through Sunday (closed Monday). Reservations recommended. Cash or American Express only.
Perhaps you are in the mood for duck confit or leg of lamb? Then head to Le Gigot and enjoy its seasonal Provençal dishes and intimate decor, but leave room for dessert. This neighborhood French joint has called Cornelia Street home since 1996. Pair your meal with a nice bottle of wine.
Where to Eat in the East Village:
Rebranded by real estate agents to take advantage of the counterculture cache of Greenwich Village in the 1960s, The East Village was originally just the northern part of the Lower East Side, and this neighborhood, which was once known as
"Kleine Deutschland," "Jewish Broadway," and "Little Ukraine" — in that order — still bears the stamp of both its days as an immigrant stomping ground and poverty-stricken birthplace of punk rock.
Veselka
144 Second Ave. (open 24 hours!)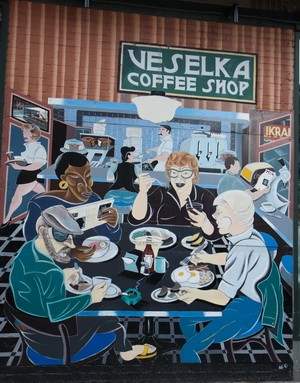 First open in 1954 as a newsstand that served soup and sandwiches, Veselka has become a New York institution and a local favorite known for serving traditional Ukrainian food in the heart of the East Village. For over half a century, Veselka has served its world-famous borscht, potato pancakes, and pierogies (dumplings) to poets, artists, musicians, professors, college students, clairvoyants, philosophers, the occasional tourists, and everyone in between.
In great news, it's open 24 hours! So if you've had a couple and just have a borscht itch you need to scratch, they'll be a stool at the counter or a table with your name on it — whether it's 3pm or 3am.
Keep your eyes peeled and you might see Jon Stewart, Daniel Craig, or Robert De Niro, who are all fans. Definitely try the borscht, the arugula and goat cheese pierogies (more "NY hipster" than a traditional Ukrainian choice, but we won't tell), and a side of sauerkraut and kasha (buckwheat porridge).
Paul's Da Burger Joint
131 Second Ave.
This kitschy, no-nonsense greasy spoon is truly one of our favorites if you want a gigantic, delicious hamburger and a taste of the grimy old New York that's fast disappearing amidst the influx of international real estate interests and national chains. Paul's was opened in 1989 by Paul Waldrop and was taken over by his cousin Matt in 2007. This "50's style eatery" has checkered tablecloths, snarky wall signs, friendly wait staff, and burgers covered in sautéed mushrooms, green chiles, bacon, or your choice of
cheese. Which ever way you take your burger, though, you're likely to leave full, and usually for less than $15.
Divya's Kitchen
Now, we are going to very smoothly transition from a "greasy spoon" burger joint to a popular zen-like vegetarian restaurant based on ancient Ayurvedic traditions. Divya's Kitchen is an excellent choice for a relaxing, mood-enhancing, and gut-healing lunch or dinner. The menu is seasonal, which is one of the main principles of Ayurveda, and features a wide variety of delicious Indian-inspired appetizers and entrees, along with an impressive list of teas based on their various healing properties.
The ambiance inspires good conversation and a relaxed meal. It's a great escape from the generally busy, bar-filled neighborhood, especially at night. And you don't have to be a vegetarian to enjoy the food. Just come hungry and with an open mind.
Where to Eat Near the Empire State Building:
Korea Town
New York's Koreatown, a stone's throw from the Empire State Building, is less celebrated than its Chinese counterpart to the south, but for our money, is just as culturally immersive and kind of a lot more fun (without all the fake bags and watches). In this confined but funky neighborhood, centered mostly around 32nd street, between Broadway and 5th avenue, you can find lots of bubble tea, karaoke bars, 24-hour restaurants, and of course, Korean barbecue.
For the uninitiated, the fun part of Korean barbecue is that you, the diner, season and cook the meat yourself, on heating elements located right there at your table, making it the perfect, memorable experience for family or group dining.
Miss Korea BBQ
10 West 32nd Street
This three-floor Koreatown pillar Miss Korea BBQ was not named to celebrate beauty pageant contestants. Instead, the "miss" here is a verb, indicating founder Sophia Lee's longing for her home country. Whether you choose the pork belly, short ribs, or beef bulgogi, we think you'll "miss Korea" too…even if you've never been.
Where to Eat Near Grand Central Terminal: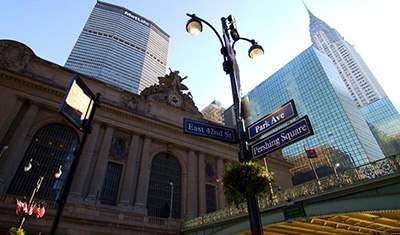 Luckily for New Yorkers and travelers alike, the worldwide food hall trend has taken over New York as well, and as with everything, we aim to do it bigger and better than anyone else. One of the city's most popular food halls is conveniently located just north of Grand Central Terminal and named after the founder of the New York Central and once-richest man in the country, Cornelius Vanderbilt, also known as "The Commodore" (if you're wondering why a railroad baron got that nickname it's because he made his first fortune in shipping).
Urbanspace Vanderbilt
East 45th and Vanderbilt Ave
Once you've taken in the restored "Milky Way" ceiling, the gilded Information Booth clock, talked to each other at the so-called Whispering Gallery by the Oyster Bar, and picked up a miniature Q Train from the New York Transit Museum, head up the escalators on the north side of Grand Central's Main Concourse and walk through the blandly shiny lobby of the MetLife Building, cross the street, make a left when you see Starbucks, and on the next corner, you'll find yourself in one of the city's hippest, most popular, and most delicious food halls: Urbanspace Vanderbilt.
Inside, you'll find a rotating selection of artisanal and chef-driven options and not a single national or global chain (which is the whole point). Here are some of our favorites:
Roberta's:
The new standard-bearer for thin-crust gourmet Brooklyn pizza (the original Bushwick location has famously been visited by Jay-Z and Beyonce as well as the Clintons), Roberta's is slumming it in midtown too. Garlic lovers should try the "Lil' Stinker," whereas the more conservative will find nothing more perfect than Roberta's thin crust Margherita. They even have craft beer on tap!
Black Iron Burger:
Voted New York's "Best Burger Joint" three years in a row, this East Village staple has been slowly colonizing the burger imagination of New Yorkers for a decade, with lines at their Midtown locations stretching down the block daily. Black Iron uses all-natural ingredients and their meat is always hormone and antibiotic free, but the real draw here is the taste. And whether you
try their turkey burger, their classic burger, or one of their specialties, make sure you don't forget the aioli fries.
Two Tablespoons:
Vegetarian? Don't lament — UrbanSpace's got you covered. Two Tablespoons is our favorite pick, though there are other good non-meat options too. They serve delicious and filling plant-based bowls that will keep your gut happy.
What About Coffee?
If you're a coffee lover, don't leave without getting a proper brew and a pastry from Toby's Estate, a popular New York-based specialty coffee shop and roaster. From espresso to oat milk lattes to great-tasting drip coffee, you'll get your caffeine fix without sacrificing flavor or quality.
Where to Eat Near Rockefeller Center: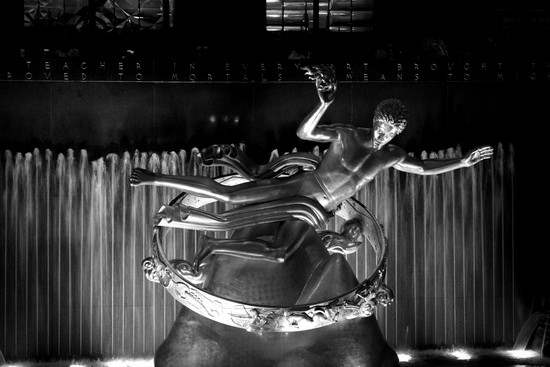 30 Rockefeller Center features several quality food options on the lower level Dining Concourse, which is especially convenient before or after visiting Top of the Rock. While most of the food establishments down there are chains, given the high commercial rents, some are popular and local brands that are worth your time and money. All are casual lunch options:
Hale & Hearty Soups — popular New York chain for tasty soups, sandwiches, and custom salads.
Blue Ribbon Sushi Bar — Great option for quality, fresh sushi.
Tri Tip Grill — popular sit-down option for hearty breakfast sandwiches, and burgers, platters, salads, or steak for lunch.
Be sure to swing by Jacques Torres Chocolates, while you're in the Dining Concourse, for a treat.
Coffee at Rockefeller Center:
Blue Bottle Coffee in the Dining Concourse near the bathroom facilities is your best best for specialty coffee, especially if you're not a huge fan of Starbucks coffee.
Finally, if you don't mind venturing outside of Rockefeller Center, we suggest that you take a short walk south, and take the time to sit down at one of the restaurants of "Little Brazil." Our favorite is:
Ipanema
43 West 46th Street
Named after both the famous beach in Rio and the girl from the Jobim song who walks there, Ipanema is perhaps one of New York's great Brazilian restaurants, although truth be told, it features a hearty combination of Brazilian and Portuguese cuisine. A family restaurant since 1979, Ipanema prides itself on its guests' familial dining experience, as well as its fresh and delicious menu. Start with the Salgadinhos (assorted Brazilian croquettes), then move onto the Fraldinha (Brazilian skirt steak with chimichurri sauce), and finish with the Pasties De Natas (egg custard tarts sprinkled with cinnamon).
Where to Eat Near Times Square:
Times Square is one of the most visited places in the world, attracting over 50 million visitors a year! These days, the biggest risk is bumping into Elmo and Olaf, rather than getting mugged or worse. And that means the only companies that can afford the preposterously high commercial rents are also the biggest brands in the country (think GAP and American Eagle Outfitters). So don't visit Times Square expecting to find "local" dining options.
And one of our most important pieces of advice as tour guides for you, as New York City visitors, is to avoid eating in Times Square at all costs. You probably didn't the money and time to fly across the country (or an ocean) to overpay for an average meal at Applebee's, Olive Garden, or Hard Rock Cafe (or worse, Bubba Gump Shrimp!).
So the general rule of thumb is: Eat and drink BEFORE or AFTER visiting Times Square, but not IN or AROUND it. But if you absolutely MUST eat in Times Square, here are a couple of quality local options, which at least are not national chains:
Heartland Brewery & Chophouse
127 West 43rd (half a block east of Times Square)
Heartland Brewery opened their taps to the public in NY's Union Square in 1995 and have served craft beer and burgers to locals and tourists for nearly 25 years now (across several locations). Their large casual Times Square location is an ideal stop for lunch or dinner (before or after a Broadway show). Enjoy their rotating list of house craft beer, coupled with salads, sandwiches, burgers, or steak dishes.
Tony Di Napoli's
147 West 43rd Street; 212-221-0100
A stone's throw from Heartland is a tourist-friend Italian-American eatery called Tony Di Napoli's, specializing in large family-style dishes. Dinner reservations are recommended, so plan ahead, especially if you have a show to catch. Alternatively, if you're starving AFTER a Broadway show, they are open until midnight (except Sunday and Monday, when they close at 11pm).
Carmine's
200 West 44th; 212-221-3800
A spaghetti toss from Times Square is another family-style Italian restaurant catering to the Broadway/tourist crowd. Carmine's, like Tony's, serves up large dishes meant to be shared and are also open until midnight (7 nights a week — take that Tony's!). Reservations are strongly suggested, especially before or after a show.
Now, let's get away from Times Square! Which brings us to a neighborhood right "next door," but just far enough away:
Hell's Kitchen
Ah, Hell's Kitchen, the neighborhood with the coolest name in New York City! Home to brutal Irish gangs a century ago, it's been more recently featured in the popular Netflix show, Daredevil, based on the Marvel comic. Truthfully, the only battles in Hell's Kitchen these days are over which of its many bars and restaurants you should choose.
Here are a couple that have us fighting for our place in line:
Meske
468 West 48th Street
One of the city's favorite new obsessions is Ethiopian food, and for those who've never tried, you're in for both a delicious treat and a memorable experience. Your chosen stewed meats and vegetables are served on injera, a slightly sour bread made from an ancient grain called teff. This soft, thin "bread" serves as your utensil as well. We recommend the meskerem combo, which comes with miser wat (berbere-spiced lentils), minchet abish wat (butter-cooked ground beef), and gomen besaega (garlic beef with collard greens).
Empanada Mama
765 9th Avenue
Open 24 hours and with over 40 different types of empanadas on the menu, this casual and colorful Colombian eatery is sure to please all who enter. The choices range from traditional (ground beef with olives and pernil) to experimental (Hawaiian, Greek spinach pie, Polish kielbasa), with heartiness and homemade goodness the only constants. Also popular as a breakfast spot, with their soul-filling huevos rancheros, cornmeal pancakes, or traditional Colombian breakfast.
Where to Eat in Harlem:
Long famous for soul-food staples such as Sylvia's and Red Rooster, in the past decade, Harlem has become a food destination all its own, (which, not coicidentally, has been matched by rising rents and property values) with everything from fine dining to seafood to artisanal Mexican. Here are some of our favorite picks, both traditional and new school;
Lolo's Seafood Shack
303 West 116 th Street
Lolo's serves a hearty and innovative fusion of everything seafood, which spans Cape Cod classics like the Crab Leg and Shrimp Steampot to Caribbean street food like crunchy conch fritters. To add to the fun cultural experience, Lolo's features a beachy back patio, serving beers and rum punch in a casual, colorful atmosphere, evoking the islands right in the middle of Harlem.

Amy Ruth's
113 West 116th Street
Amy Ruth's upholds the standard for what great soul food should be without upholding the long lines of the better-known Sylvia's and Red Rooster. Quickly famous for their chicken and waffles, Amy Ruth's was founded in 1998 by Carl S. Redding, and named after his grandmother, Amy Ruth Moore Bass, who taught him to cook as a child in Alabama. With dishes named after African-American notables ranging from Barack Obama (fried chicken), Al Roker (boneless short ribs), to former NY governor David
Paterson (garden burger with tossed salad), you get to celebrate African-American culture while filling your belly, wherever you're from. Although there are plenty of options, there's no good reason to mess with perfection…in the form of Amy Ruth's original chicken and waffle—just ask your server for the "Reverend Al Sharpton."
Fumo
1600 Amsterdam Ave.
Fumo is a popular neighborhood wine bar and modern Italian eatery in the Hamilton Heights section of Harlem, right across from the gorgeous Gothic-inspired campus of City College. A great choice for weekend brunch or weekday lunch and dinner. Grab a spot at the bar or get a table and enjoy upscale pizza, salads, pasta dishes, and other delicious goodness.
The Grange
1635 Amsterdam Avenue
The Grange Bar & Eatery derives its name from the historic early 19th-century Harlem home of Alexander Hamilton, which is just a block away. This is an excellent choice for lunch, dinner, drinks, or weekend brunch. They offer an impressive variety of craft beer and cocktails, as well as delicious seasonal dishes using locally sourced ingredients.
Now we're going to switch gears a bit and devote an entire section of this article to one thing — the bagel.
Best Bagel Shops in NYC: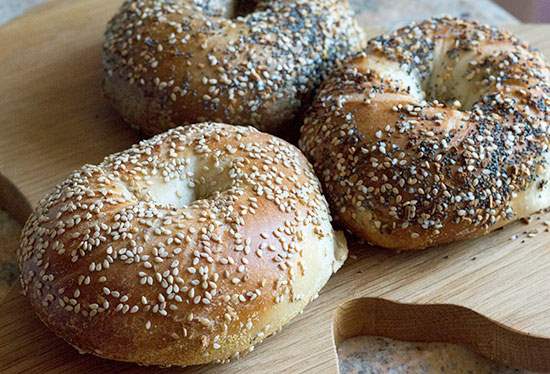 Bagels are so important to New York's food culture and mythology that we devoted a separate section to these warm, doughy, baked marvels, deliciously edible marvels. In fact, when many New Yorkers move to a new apartment, one of the first things we do is check the neighborhood for a proper bagel joint, because we all know that the worst morning can be mitigated by the best bagel. And the crappiest neighborhood can become more livable with an excellent bagel shop.
The popular New York bagel shops below all have something in common:
The bagels are hand-rolled and baked on premises in the traditional NY style (not what you buy frozen in a supermarket).
Kossar's Bagels & Bialys
Address: 367 Grand Street
Neighborhood: Lower East Side
H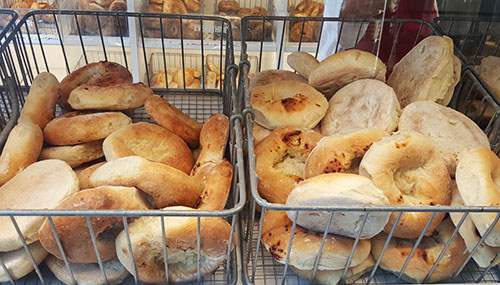 We list Kossar's first for a couple of reasons:
They've been baking traditional bagels and bialys (visit Kossar's homepage and click on the "What is a Bialy?" video link) since 1936, so they know a few things about making a great bagel.
They are located on the Lower East Side, which a century ago was a huge enclave of Eastern European Jews – the same Jews that brought the bagel to America in the first place.
Stop by for a traditional bagel with cream cheese, or maybe give the bagel's lesser-known cousin, the bialy, a try. Brought to America by Jewish immigrants from Bialystok, Poland, this flatter version of the bagel with a depression instead of a hole is traditionally baked with chopped garlic or onions in the middle. It is not boiled before being baked, which is why it's less puffy than a bagel.
Kossar's is the oldest remaining Bialy bakery in the United States. That should be enough to make you try one! And while you're there, take the time to admire the amazing selection of historical Lower East Side photos they have on the wall.
Planning your NYC visit?
Click here to get on our email list, and we'll send you 5 of our super-helpful NYC guides and suggested itineraries for free! Plus, we'll send you an exclusive $20 off code your first tour.
Zabar's
Address: 2245 Broadway (corner of 80th street)
Neighborhood: Upper West Side
H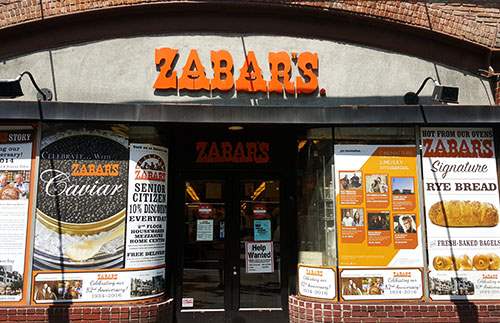 Zabar's is a New York institution, having operated on the Upper West Side since 1934. It is heaven on earth for people who love good food. Sample hundreds of types of cheese, taste all kinds of olives and pickles, then find your way to the bread department and get a chocolate or cinnamon & raisin rugelach to go (a small, traditional Jewish pastry).
But of course, Zabar's also offers great freshly-made bagels. It doesn't hurt that they have a huge smoked fish department either. So grab some fresh bagels, a few slices of lox, and some cream cheese and head to a bench in nearby Riverside Park (just one block downhill from Zabar's along 80th street). Or walk a few blocks east for some people-watching on a bench in Central Park.
If the weather is not conducive to eating a bagel on a park bench, then stop by Zabar's corner café – maybe you'll get lucky and score a seat (you'd be competing with locals for those seats, so watch out!). Here, you can order a bagel with a schmear of your choice at the counter. Who knows — you might even end up having an impromptu conversation with a real New Yorker!
Barney Greengrass
Address: 541 Amsterdam Avenue (between 86th and 87th street)
Neighborhood: Upper West Side
H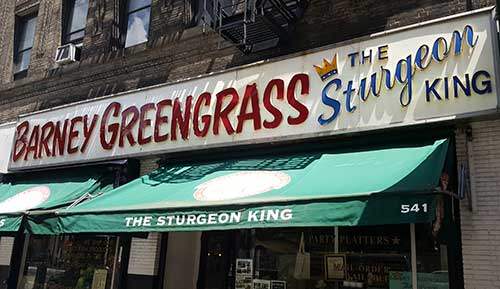 Barney Greengrass, also known as the "Sturgeon King", is another Upper West Side neighborhood staple that's been slicing smoked fish and baking bagels since 1908. Drop by for an "everything" bagel with a generous portion of lox, cream cheese, and a slice of fresh tomato, then take it to go to a bench in Central Park. Or, if you need a rest and there is a table available, enjoy it inside this classic diner.
Bagel Works
Address: 1229 1st Avenue (between 66th and 67th street)
Neighborhood: Upper East Side
H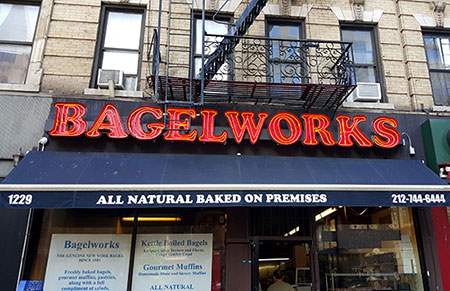 Hop over to the east side for fresh bagels baked on premises since 1983. Bagel Works is an Upper East Side institution. It's a small, no-frills shop, which often has a line out the door. And the reason is clear: the bagels are super-fresh and delicious. In fact, while you're waiting in line to order, you will probably see the bagel baker putting the rolled dough in the boiling kettle or taking the dough out of the kettle and sprinkling some sesame seeds on it, before baking it.
And here is a special bonus:
Come in for the fresh bagels, leave with an oversized blueberry muffin, with a scrumptious, crusty crumb topping — it's a meal in itself. It will be hard to resist walking out with both!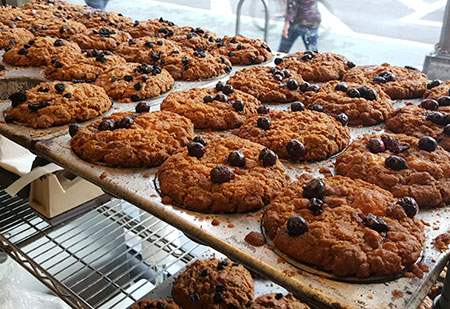 Murray's Bagels
Address: 500 6th Avenue (corner of West 13th)
Neighborhood: Greenwich Village
Hours: 6am to 9pm weekdays; 6am to 8pm weekends
If you find yourself exploring Greenwich Village, stop by Murray's for freshly baked, traditional NYC bagels. Murray's has been a haven for bagel lovers since 1996. And with so much to see and do in the beautiful and historic neighborhood around it, you're bound to need a tasty snack to refuel.
Grab a hand-rolled bagel fresh out of the oven (with a schmear of cream cheese) and head to nearby Washington Square for some live music and people-watching. Maybe you'll even spot Paul, the Pigeon Man, or Larry, the Bird Man.
Leo's Bagels
Address: 3 Hanover Square (off Stone Street)
Neighborhood: Financial District

Leo's was the first real NYC bagel shop to open in the Financial District, which has become one of New York's fastest growing residential neighborhoods. Nestled amid Downtown skyscrapers on a relatively quiet street perpendicular to NY's first paved street, Stone Street, Leo's offers delicious hand-rolled bagels and a full deli counter.
Leo's was founded by Adam Pomerantz, a former Merrill Lynch employee, who left Wall Street to bake traditional bagels. He named his shop Leo's for 2 reasons:
1. His great uncle Leo, who was a Jewish immigrant from Eastern Europe
2. Leo's is an acronym for Lox, eggs, and onions (on a bagel) – a Lower East Side favorite.
So whether you're taking a free ride on the Staten Island Ferry, visiting Alexander Hamilton's grave at Trinity Church, or strolling along Wall Street, drop by Leo's for some fresh NYC bagels you'll love.