Guest post by Tim Dolan, founder and owner of Broadway Up Close
Photo credits: Sascha Reinking Photography
Broadway. It's a word that conjures up bright lights, sequined costumes, and a swelling orchestra. For over one hundred years it's been a destination for the millions of people who visit New York City. And with my company, Broadway Up Close, we strive to unearth the stories and secrets from Broadway's past to give a fresh perspective on that thriving industry.
Since we started giving tours in 2010, we've been asked every question imaginable, but two questions are asked more than any other:

"What's the difference between a Broadway and Off-Broadway show?
"What's the best way to get tickets to a show?"
Let's start with the first one:
What's the difference between a Broadway show and an Off-Broadway show?

If you are like most New York City visitors, the common assumption is that a Broadway theater is defined by its location. Since there is a main thirteen-mile long thoroughfare that cuts through the middle of Manhattan that shares the same name, presumably that means the Broadway theaters are located on Broadway.  Sadly, that's incorrect. Of the 41 Broadway theaters currently standing, only three are technically located on Broadway. So, if not location, then what?  

Simply put, it's the number of seats in the theater. Any theater in New York City (with a few notable exceptions like Radio City Music Hall and Carnegie Hall) that has 500 or more seats is considered a "Broadway" theater, while a theater with 100-499 is deemed an "Off-Broadway" theater.

What if a theater has fewer than a hundred seats, you ask?  Yep, you guessed it: "Off-Off-Broadway"!

So, now that you know the difference between the types of theaters, let's move on to the next frequently asked question:

What's the best way to secure tickets for a Broadway show?

With 41 Broadway theaters and approximately 90 Off-Broadway theaters (and that's not even including Off-Off-Broadway!) there's a vast array of shows to choose from – which also means a lot of different ways to get tickets.

Let's look at 5 options for buying Broadway show tickets:

Option 1: Roll the dice on a new show

If the show is just beginning performances, very often there are pre-sale discount offers that can be secured directly through each individual show's website. If you have the schedule flexibility and the timing is right, catching an early performance of a new show can be cost-effective and has the potential to be the next Wicked or Hamilton: An American Musical. (On the flipside – it could also turn out to be the next Carrie: The Musical. Yes, that was a thing. And no, it didn't go well.)

Option 2: Hunt for discounts on longer-running shows at BroadwayBox.com

If you're considering shows that have been open for a while, we recommend checking out BroadwayBox.com. This website has a plethora of discounts for individual shows. Simply type in the name of the show you're looking to see and very often they'll have some sort of discount code that can be redeemed online or at the theater's box office.

Option 3: TKTS

If you can't score good discounts at BroadwayBox.com, never fear, for there's another discount option that we love: the TKTS Booth. Housed under the iconic Red Steps at the northern end of Times Square, the main location of TKTS offers deep discounts (as high as 50% off) for shows that same day.

On either side of the purchase counters are electronic boards displaying which shows are available and the different discounted price options for each. If you don't mind waiting in line, you can snag same-day tickets here in-person for some prime seats. And while you're there be sure to strike up a conversation with the TKTS Staff in red attire. They are knowledgeable, smart, have seen most of the shows currently playing, and can give great tips on what to see.

Option 4: Online lotteries, also known as "general rush" tickets

Two more ways to secure discounts are through online lotteries and "general rush" tickets. When the musical Rent first opened in 1996, the producers set aside seats in the first two rows of the orchestra section to be sold at the box office each day for $20 each. Fans, or self proclaimed "Rentheads," would line up for hours with sleeping bags on seedy 41st Street to snag the coveted tickets to the show.

As a safer alternative, the producers adopted a lottery system a year or so into the run, so rush ticket buyers wouldn't have to sleep on the crime and drug-ridden block. For the last eleven years of the run, thirty-four tickets for each show were up for grabs via the lottery at the entrance to the Nederlander Theatre.

To this day, many shows have embraced the same "theatre-for-the-masses" idea of a lottery system before each performance as a way to make Broadway accessible to those who otherwise could not afford the expensive ticket price. All you need is a little luck on your side! For a general list of which shows offer a lottery or "general rush," a great resource is Playbill.com. On the right hand column of the website there is a very comprehensive guide of each Broadway show and its different discount policies.

Option 5: Roll the dice on Broadwayroulette.com

One last creative ticket-buying idea is a new company called Broadway Roulette.

Here is how it works:

You enter the date you'd like to see a show, the number of tickets, pick your preference of play or musical, and then take a spin on their roulette wheel! For under $60 a ticket, a show will be picked at random for you. Most of the popular shows are included in the line-up, and in the past there have even been tickets to Hamilton: An American Musical on the roulette wheel!

If you don't have a specific show in mind, this is a fun and affordable way to take in a show in New York City.
In closing, any trip to New York City isn't complete without taking in at least one Broadway show. We hope that with our helpful hints you'll snag some great seats!

And, of course, before you see a show why not learn about the history, tales, and even a few ghost stories on a Broadway Up Close Tour? We look forward to seeing you on our Broadway sidewalks in Times Square during your next visit!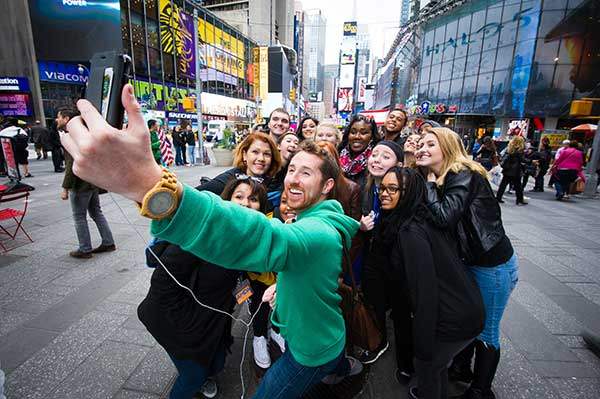 Addendum by Max Vishnev, founder of CityRover Walks NY:

Thanks for visiting cityroverwalks.com and for reading this post! I hope you'll put Tim's terrific Broadway info and advice to good use and check out one of his great Broadway tours! There is little I can add other than to expand a bit on TKTS:

TKTS is run by the Theater Development Fund, a 50-year-old non-profit focused on bringing performing arts to everyone. There are three TKTS Discount Booths:

Times Square (the main location by the red steps in the heart of Times Square that Tim mentioned earlier)
South Street Seaport on the eastern edge of Downtown Manhattan
Lincoln Center
Click here for the hours of operation, exact address, and best public transportation options for all three TKTS locations.
You can also check out real-time ticket info for all three discount windows on a page called "TKTS Live", which is linked to the electronic boards by the actual discount windows. You can use this page to get a sense of what's available, what the discount offers are, as well as the general discounted price range.

TKTS offers discounts on both Broadway and Off-Broadway shows. The discount windows accept credit cards and cash, but there is a $6-per-ticket service charge, which helps support the organization.

Musical vs. Play:

If you're interested in seeing a play rather than a musical, you're in luck! The TKTS Discount Window in Times Square offers a "PLAY EXPRESS" window, which moves a lot faster and, as the name suggests, only sells tickets to plays. Ask a TKTS staff member where the line for plays starts.

Check out the TKTS app!

TKTS may have been around for a while (over 40 years in Times Square!), but they're up with the times with their useful and user-friendly mobile TKTS app for iOS and Android. Browse all the shows and schedules, look up theater locations, check out the real-time discount offers, and even find out the approximate wait times at each of the three locations! Last but not least, you can use the app to create your Broadway "Wish List" and be notified when tickets for your selected shows become available.