---
Tour Summary:
On this unique 3.5hr walking tour, we will discover what was once the largest biscuit factory in the world (now Chelsea Market), walk on the High Line (an abandoned rail line converted to the first elevated park in America), explore the now-chic Meatpacking District, and wind our way through the quaint 19th century streets of Greenwich Village en route to Washington Square. Along the way, we'll stop for a tasty slice of pizza and another local treat to keep you sated.
Tour Highlights:
• Taste two local snacks, including a slice of NY-style pizza, and discover many great bars, cafes, and restaurants along the way
• Explore Chelsea Market, an old biscuit factory turned popular indoor shopping and food destination
• Take a walk on the High Line, America's only elevated park, and learn about its fascinating history and transformation
• Learn about the evolution of the industrial-turned-chic Meatpacking District while exploring its cobblestone streets and trendy boutiques
• Get lost in historic Greenwich Village and discover the unique charm of this 19th century "suburb"
• Enjoy a break in Washington Square and learn about its sordid past
Basic Tour Info:
• Length and Distance: About 3.5 hours; 3 miles on foot (5 kilometers)
• Schedule: Thursday and Sunday at 10am
• Cost: $45 for adults, $25 for kids 12 and under
• Size: Maximum group size is 12 adults
• Break: There will be 1 bathroom break
• Language: Our tours are currently offered only in English
• Private Option: This tour is also offered privately
• Location: Starts in Chelsea near the High Line (you will receive detailed info after booking), ends in Washington Square (you will be given directions), near great places for lunch, coffee, or a drink
The CityRover Promise:
• An interactive, informative, and fun tour, with memorable stories, great photo opportunities, and tasty snacks
• No more than 12 adults, no flags, no microphones, no memorized scripts, no canned jokes, no notes
• An engaging, knowledgeable and licensed CityRover guide
More About the Tour:
On this off the beaten path, fun and informative walking tour, we'll start off in the factory where the OREO cookie was born, then head up to the High Line — America's only elevated park — to admire the views and learn about the transformation of Manhattan's industrial west side.  We will also pass through the trendy Meatpacking District, with its century-old meatpacking plants and new shopping boutiques.
Then, after a tasty local snack, we will wind our way through the West Village, with its narrow streets, beautiful brownstones, sidewalk cafes, and lots of interesting history.  After our second stop, for a delicious slice of pizza, we'll head towards Washington Square, where we will end the tour with some sordid tales involving bullets and bones and maybe catch a glimpse of "Pigeon Man".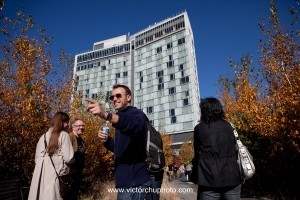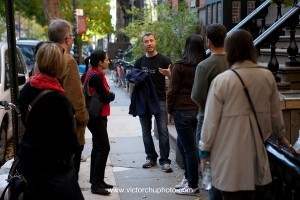 Parts of the following areas will be explored:
West Chelsea
The High Line

Meatpacking District
West Village
Greenwich Village
Recent Reviews For This Tour:
"Village Sampler a Must" Reviewed June 2, 2014 on TripAdvisor
"Danielle, our guide, gave us a wonderful tour of the Village. There was so much history and great stories to hear. City Rovers keeps the tour size down which was great for being able to hear and get a chance to talk with everyone in the group. The tour was not wrote memorization, it was very conversational and it was clear Danielle loved the city and sharing the stories. Being a NYC native and sharing her memories of the area from when she was a child was a real treat. I was not sure how I would like the Village Sampler tour but it ended up being my favorite and we were excited to bring others in our party who arrived later in the week to the area to share our experience. Danielle was also very considerate of the group. Though the weather was beautiful, it got a little warm so she made sure we walked on the shady side of the street and were in the shade when she stopped to talk to us. Nice touch. Can't thank you enough for a fabulous tour!!!"
"Fun and Educational" Reviewed May 30, 2014 on TripAdvisor

"1st tour on our 1st trip to NYC and definitely one of the best! Did Village Sampler with Danielle. AWESOME! We learned so much about the history of the Chelsea Market that we met our niece there and shared our knowledge. (She's been in NYC for a year and didn't know any of the tidbits Danielle shared with us.) The Hi-Line history was fascinating, too. Then we had our 1st NYC grandma slice of pizza at Bleecker Street, one of the best in NYC! Plus she had water and a couple of snacks for us! Class act! CityRover deserve the #1 rating! If we'd had more time, we would have taken all of their tours!"
"Village/High Line Tour" Reviewed May 30, 2014 on TripAdvisor
"Max's Village tour was really excellent. We were 12,which is his maximum and he began by giving time for everyone to say a little bit about themselves,which created an immediate group bond. He was professional, knowledgeable, attentive and humorous. He never rushed us and answered all questions well.This was great value for money and gave insights into NYC that were relevant to the rest of our sort stay there.Highly recommended."
"The Best in the Business" Reviewed May 16, 2014 on TripAdvisor
"As fellow reviewers also claim, our experience exceeded every other of its kind in every other city and confirmed this walking tour company is simply the best in the business. Max, the owner/guide, met us in front of Chelsea Market with a smile, handed us water bottles, and then led us on a fascinating, informative, humorous and well-paced "village sampler" walk that lasted over four hours that flew by! It was a drizzly day made bright and unforgettable by a professional whose passion for his city and professional skill as a guide are unmatched in our considerable travel experience. From knowledgeable quick answers to questions to studied architectural notes on neighborhood buildings to great anecdotal tales to perfectly timed pauses and intermittent stops, Max exceeded every expectation and gave us more than our money's worth–including a round at a famous Irish pub. We can't wait for our next trip to NYC to sign up for another of his "walks" and recommend you do the same. You'll be so glad you did and walk away with a smile and whole new appreciation for the real New York culture!"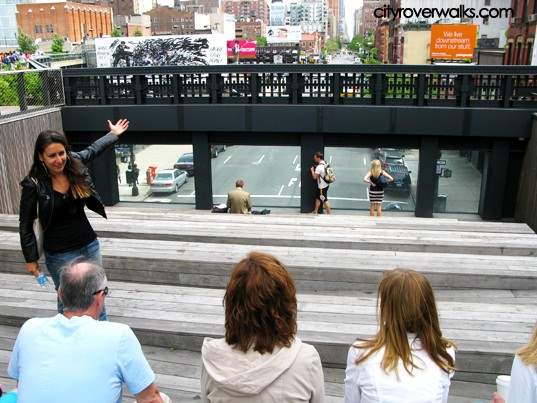 Our very own Danielle showing off the High Line
Additional Tour Info:
What About Kids? Our public tours may not be appropriate for young children, as they involve a lot of walking and cover topics geared to adults.  Further, some of our tours reference adult content some parents may deem inappropriate for children.  On this particular tour, references may be made to drugs, prostitution, riots, and epidemics.   That said, there are 2 "child" tickets available for each public tour for children aged 12 and under.
Meeting Point: Detailed meeting point instructions will be emailed to you once your reservation has been processed.  Please note that the tour ends near Washington Square Park (not at the start point), so we recommend using public transportation to get to the meeting point (vs. driving).
Stops: We normally make a couple of pit stops on this walk for optional snacks and refreshments, which may include the following great local establishments, but may be substituted for other local gems at CityRover's discretion:
Myers of Keswick – NY's only authentic, family-run English meat pie shop, established 1985 (vegetarian options available).
Bleecker Street Pizza – Great, NY-style pizza – voted #1 by the Food Network a few years in a row.
Are snacks/refreshments included in tour price? Although this is not a food tour, the cost of the food-related snack stops we make is included in our tour price (coffee/tea excluded).  In addition, each participant will be offered a complimentary bottle of water at the start of each walk.  Notes about the snacks:  Our snack stops are usually not suitable for vegans, folks with gluten allergies, or individuals who are strictly kosher.  We apologize for any inconvenience.
Are gratuities included? Guide gratuities are not included in the tour price, so if you enjoy your tour, tips are very much appreciated.
Is this walk strenuous? This walk is not strenuous, assuming you are comfortable with being on your feet for 3+ hours and covering about 3 miles in that time frame.
---