---
Tour Highlights:
• Taste two local snacks, including a slice of NY-style pizza, and discover many great bars, cafes, and restaurants along the way
• Explore Chelsea Market, an old biscuit factory turned popular indoor shopping and food destination
• Take a walk on the High Line, America's only elevated park, and learn about its fascinating history and transformation
• Learn about the evolution of the industrial-turned-chic Meatpacking District while exploring its cobblestone streets and trendy boutiques
• Get lost in historic Greenwich Village and discover the unique charm of this 19th century "suburb"
• Enjoy a break in Washington Square and learn about its sordid past
Basic Tour Info:
• Start Time: Select Thursdays and Sundays at 10am. Available for private booking year-round.
• Length and Distance: 3 to 3.5 hours; 3 miles on foot (5 kilometers)
• Cost: $39 for adults, $25 for kids 12 and under
• Size: Maximum group size is 12 adults
• Break: There will be 1 bathroom break
• Language: Our tours are currently offered only in English
• Private Option: This tour is also offered privately
• Location: Starts in Chelsea near the High Line (you will receive detailed info after booking), ends in Washington Square (you will be given directions), near great places for lunch or a drink
The CityRover Promise:
• An interactive, informative, and fun tour, with memorable stories, great photo opportunities, and tasty snacks
• No more than 12 adults, no flags, no microphones, no memorized scripts, no canned jokes, no notes
• An engaging, knowledgeable and licensed CityRover guide
Tour Summary
On this off the beaten path, fun and informative walking tour, we'll start off in the factory where the OREO cookie was born, then head up to the High Line — America's only elevated park — to admire the views and learn about the transformation of Manhattan's industrial west side.  We will also pass through the trendy Meatpacking District, with its century-old meatpacking plants and new shopping boutiques.
Then, after a tasty local snack, we will wind our way through the West Village, with its narrow streets, beautiful brownstones, sidewalk cafes, and lots of interesting history.  After our second stop, for a delicious slice of pizza, we'll head towards Washington Square, where we will end the tour with some sordid tales involving bullets and bones and maybe catch a glimpse of "Pigeon Man".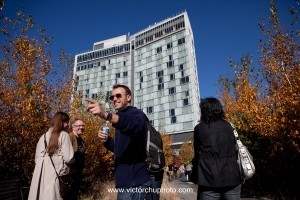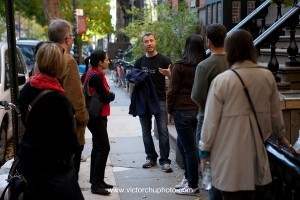 Parts of the following areas will be explored:
West Chelsea
The High Line

Meatpacking District
West Village
Greenwich Village
Recent Reviews For This Tour:
"Village Sampler Walk" Reviewed September 21, 2013 on TripAdvisor

Brilliant walk with Danielle on our first day in New York.  She was so knowledgeable and really enthusiastic about sharing the history of the area.  The tour included the Highline, Chelsea market, the meatpacking district, Greenwich village and finished in Washington park and included a stop for a scone and a slice of pizza, both of which were great. Also thanks to Max who give us directions from our hotel to the start of the walk, which meant we walked most of the Highline park which was a really great introduction to the city, and he also recommended Amy's Bread in Chelsea Market for breakfast where the chocolate croissants and sourdough twists were delicious.We would certainly recommend this walk!
"Fantastic Walk, Village Sampler!" Reviewed September 5, 2013 on TripAdvisor
We booked the tour with Cityrover and could not find any fault during any of the 3 or so hours spent with Danielle on the 1st Sept 2013. Danielle's knowledge of the areas we visited was to be applauded, she kept us entertained throughout (remember the standard). The donuts at the start were great, to be followed by pizza and Oreo's (thanks Danielle). The 3 hours was taken at a steady pace, with plenty of time for questions and photo's.
If you go to New York and don't go on a CityRover tour then you are missing out on increasing your knowledge of American history and areas not normally visited by tourists. Thanks again Danielle.
"Greenwich Village Walking Tour is Awesome!" Reviewed July 29, 2013 on TripAdvisor
This was my first tour with Max – it was better than I had expected! The 3.5 hours flew by. The walk was easy and can definitely be done by young and old alike. Max was insightful and knowledgeable of the history and the culture. I would recommend this highly as the best way to get a up close and in depth experience of New York.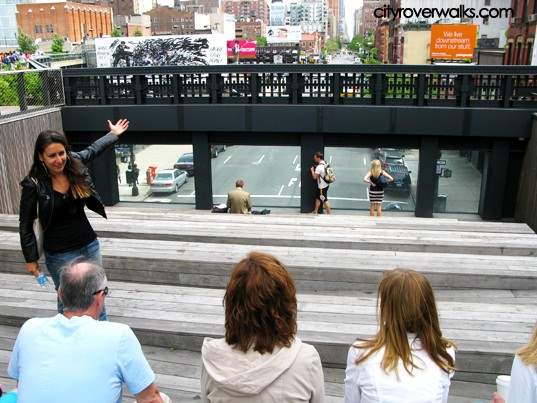 Our very own Danielle showing off the High Line
Additional Tour Info:
What About Kids? Our public tours may not be appropriate for young children, as they involve a lot of walking and cover topics geared to adults.  Further, some of our tours reference adult content some parents may deem inappropriate for children.  On this particular tour, references may be made to drugs, prostitution, riots, and epidemics.   That said, there are 2 "child" tickets available for each public tour for children aged 12 and under.
Meeting Point: Detailed meeting point instructions will be emailed to you once your reservation has been processed.  Please note that the tour ends near Washington Square Park (not at the start point), so we recommend using public transportation to get to the meeting point (vs. driving).
Stops: We normally make a couple of pit stops on this walk for optional snacks and refreshments, which may include the following great local establishments, but may be substituted for other local gems at CityRover's discretion:
Myers of Keswick – NY's only authentic, family-run English meat pie shop, established 1985 (vegetarian options available).
Bleecker Street Pizza – Great, NY-style pizza – voted #1 by the Food Network a few years in a row.
Are snacks/refreshments included in tour price? Although this is not a food tour, the cost of the food-related snack stops we make is included in our tour price (coffee/tea excluded).  In addition, each participant will be offered a complimentary bottle of water at the start of each walk.  Notes about the snacks:  Our snack stops are usually not suitable for vegans, folks with gluten allergies, or individuals who are strictly kosher.  We apologize for any inconvenience.
Are gratuities included? Guide gratuities are not included in the tour price, so if you enjoy your tour, tips are very much appreciated.
Is this walk strenuous? This walk is not strenuous, assuming you are comfortable with being on your feet for 3+ hours and covering about 2 miles in that time frame.
---