---
Tour Summary:
Central Park is best explored on foot, but not all NY sightseeing tours are created equal. Join our popular and highly-rated walking tour of Central Park and together we will explore its winding paths, spectacular highlights and hidden gems, while discussing some very interesting social, architectural, and otherwise weird facts about its construction, design, and famous landmarks. We will also talk about the Imagine Memorial for John Lennon in Strawberry Fields, the role of the Central Park Conservancy, and the importance of the landmark Dakota Apartments to the development of the Upper West Side, among other interesting topics.
Walking Tour Highlights:
• Escape NY's concrete jungle and get lost in America's first and most visited city park
• Tour some of the most famous Central Park landscapes and features, including The Mall, Bethesda Terrace, The Lake, Strawberry Fields, Imagine Memorial, The Great Lawn, and much more
• Learn about some of Central Park's secrets and discover hidden gems like the Ladies' Pavilion, Belvedere Castle, and Shakespeare Garden
• Enjoy Central Park's incredible beauty while learning about its history and design

Basic Tour Info:
• Start Time: Public tours resume in March 2014 — Wednesday, Thursday, and Saturday at 3pm. The tour will end around 6:30, allowing you to see Central Park in the best light, while leaving enough time for an early dinner on the Upper West Side and a quick subway or taxi ride to catch an 8pm Broadway show.
• Length and Distance: About 3.5 hours; 3 miles on foot (5 kilometers)
• Cost: $45 for adults, $25 for kids 12 and under
• Schedule: Wednesday, Thursday, Saturday at 3pm
• Size: Maximum group size is 12 adults
• Language: Our tours are currently offered only in English
• Break: There will be 1 bathroom break
• Private Option: This tour is also offered privately
• Location: Starts near Fifth Avenue and Central Park South (you will receive detailed info after booking), ends in the Park near the Museum of Natural History and the B- and C-train subway station (you will be given directions) and near great places for dinner, coffee, or drinks on the Upper West Side.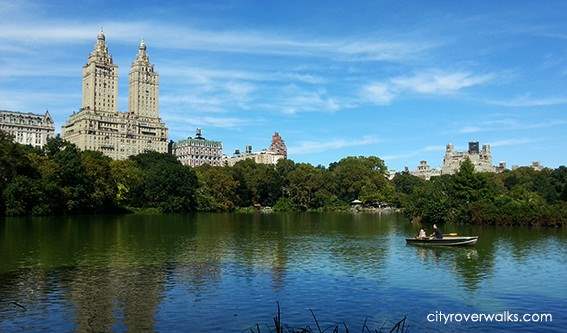 Bus and private van tours will drop you off and give you 10 minutes to "see Central Park", while other companies will rush you through a few main parts en route to other places. Our goal is to focus on Central Park.  We will concentrate on the southern half, walk at a comfortable pace, discover some of the park's highlights and hidden marvels, while stopping along the way to admire the views, rest our feet, take photos, and, of course, learn a lot about this incredible work of art, the people behind it, including its two designers — Frederick Law Olmsted and Calvert Vaux — and the history of the city which surrounds it.
In short, you will walk away with not only a better appreciation and understanding of Central Park but New York City and its development as well.
The CityRover Promise:
An interactive, informative, and fun tour, with memorable stories and great photo opportunities
No more than 12 adults, no flags, no microphones, no memorized scripts, no canned jokes, no notes
An engaging, knowledgeable and licensed CityRover guide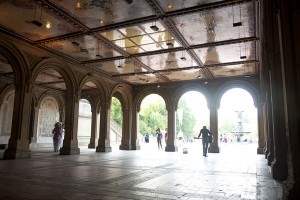 ---
Recent Reviews For This Tour:
"Central Park Tour Was a Highlight of My Trip!" Reviewed December 17, 2013 on TripAdvisor
"My girlfriend and I took took the tour of Central Park, just after the first snowfall of the season. It was an amazing experience. Our tour guide, Max, was very knowledgeable and his genuine love for Central Park and NYC was evident throughout the tour. I will definitely be booking other tours with CityRover on my future trips to NYC."
"Best of Central Park" Reviewed November 25, 2013 on TripAdvisor
"We took the Central Park tour with Max and had an excellent experience. The tour started with a wonderful snack that set the tone for the rest of the tour. Max is well prepared and has a wealth of information to share. He ensures that you understand not only the history, but also the vision of Central Park and its value to NYC today. The story is well worth it and will likely exceed your expectations. We will definitely be booking another walking tour for our next trip."
"Magnificent Tour of Central Park" Reviewed November 24, 2013 on TripAdvisor
"This was our second walking tour with City Rover and it was just as wonderful as the first. We learned so much about Central Park from Max who was so knowledgeable and entertaining. It is such a wonderful way to see the park and learn about its history. Would highly recommend this company and can't wait to learn about the Brooklyn Bridge next year!"
Additional Tour Info:
How strenuous is this walk? This walk covers about 3 miles on foot in a little over 3 hours.  Assuming the benches in the Park are not wet, there will also be plenty of opportunities to sit down (while your guide tells you interesting stories).  However, this tour does involve several short walks uphill and a few staircases to climb and descend.  If you feel that this may be too strenuous for your age, level of fitness, or state of health, then please consider joining another CityRover tour.
What About Kids? Our public tours may not be appropriate for young children, as they involve a lot of walking and cover topics geared to adults.  Further, some of our tours reference adult content some parents may deem inappropriate for children.  On this particular tour, references may be made to murder, crime, and drugs.   That said, there are 2 "child" tickets available for each public tour for children aged 12 and under.
Meeting Point: Detailed meeting point instructions will be emailed to you once your reservation has been processed.  Please note that the tour usually ends either near the Metropolitan Museum of Art or the American Museum of Natural History (not at the starting point), so we recommend using public transportation to get to the meeting point (vs. driving and parking).
Stops: There will be at least 1 restroom break during our walk.  Each participant will also be offered a complimentary bottle of water on the walk and a small snack along the way.  A meal prior to the tour is recommended.
Are gratuities included? Guide gratuities are not included in the tour price, so if you enjoy your tour, tips are very much appreciated.
---
Parting Words:
The days of joggers looking over their shoulders and women clutching their purses are very much in the past, even though crime shows still occasionally film murder scenes in the park. These days, nearly 40 million annual visitors step in through Central Park's symbolic gates, stroll along its winding paths, row boats on the Lake, ice skate on Wollman Rink, walk their dogs, push their kids on swings, play catch on the Great Lawn, or simply unwind in the shade on a rustic bench. Exploring the park today, one would be hard-pressed to find any trash or graffiti, or see a single police officer by day. Couples and bird-lovers get lost in the Ramble without stepping on used needles or going around homeless squatters. Tourists carry expensive cameras without a second thought. And it's easy to take the park's current state for granted. But it wasn't always this clean and safe.
In the mid-1970s, New York City was on the brink of bankruptcy, garbage piled up everywhere, crime was rampant. Middle-class families were fleeing to the suburbs in record numbers. And Central Park, once considered America's great work of landscaped art, became a place to be avoided and the butt of late-night jokes on television. But thanks to a grass-roots effort by a few civic-minded New Yorkers, Central Park has been not only brought back to life but is arguably at its most beautiful.
So we hope you will join us on this tour to learn more about its transformation.