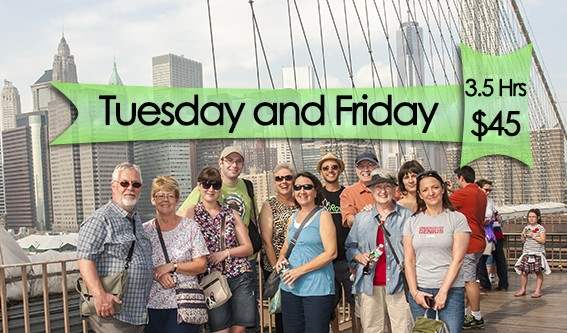 Header image by Valery Stavnitser
---
Tour Summary:
More than 50 million tourists visit NYC each year. Yet the majority never get off the island of Manhattan. Joining this tour will provide you the perfect opportunity to see Manhattan's famous skyline from a comfortable distance, while learning a lot about its famous neighbor across the East River — Brooklyn. Of course, to get there, we'll walk over the 130-year-old Brooklyn Bridge, with its own incredible history.
Tour Highlights:
• Walk over the iconic Brooklyn Bridge (only 1-mile long) and learn about this marvel of engineering and the incredible story of the Roebling family, all while admiring the spectacular views
• Discover DUMBO, Brooklyn's industrial-turned-trendy waterfront neighborhood
• Explore the brand-new Brooklyn Bridge Park, including Jane's Carousel and the 19th-century Tobacco and Coffee warehouses
• Wind your way through Brooklyn Heights, NY's first suburb, and get your camera out for fantastic photo opportunities on the Brooklyn Heights Promenade, which overlooks the Harbor, Statue of Liberty, and Manhattan's skyline
• Sample a delicious Belgian waffle from a food truck and a enjoy a chocolate break at Jacques Torres Chocolates in Dumbo
Basic Tour Info:
• Length and Distance: About 3.5 hours and 3 miles on foot (5 kilometers)
• Schedule: Tuesdays and Fridays at 3pm
• Cost: $45 for adults, $25 for kids 12 and under
• Size: Maximum group size is 12 adults
• Break: There will be 1 bathroom break
• Language: Our tours are currently offered only in English
• Private Option: This tour is also offered privately
• Location: Starts near City Hall Park (you will receive detailed info after booking), ends in Brooklyn Heights (you will be given directions) near great places for dinner/drinks.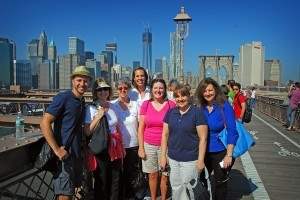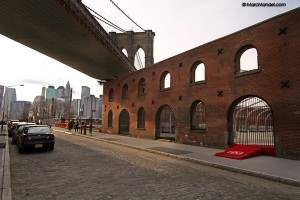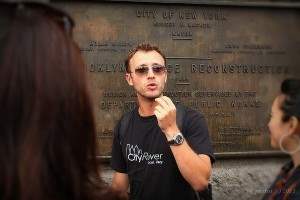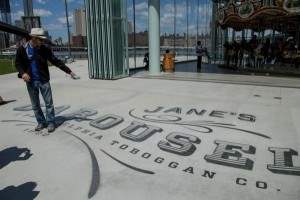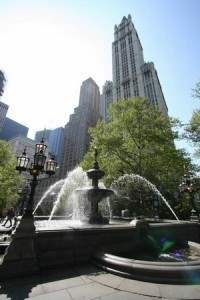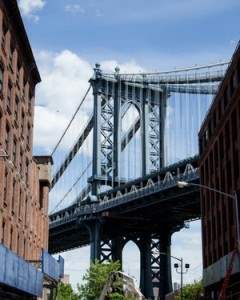 Tour Breakdown:
While the Brooklyn Bridge is a key part of this tour, we usually spend no more than 45 minutes on it, which leaves us plenty of time to get to know both Manhattan and Brooklyn better.  The 3.5-hour tour time is usually allocated as follows:
40 minutes in Downtown Manhattan
45 minutes on Brooklyn Bridge (including crossing its 1-mile span)
45 minutes in Dumbo (including a snack/bathroom break at a popular chocolate shop)
40 minutes in Brooklyn Bridge Park and Fulton Ferry Landing
40 minutes in Brooklyn Heights
What's included:
Bottled water
2 Snacks: usually a mini Belgian waffle and a chocolate treat
Licensed CityRover tour guide
What to expect:
No more than 12 adults, no flags, no microphones, no memorized scripts, no canned jokes, no notes
An interactive, informative and scenic tour, with memorable stories and great photo opportunities
---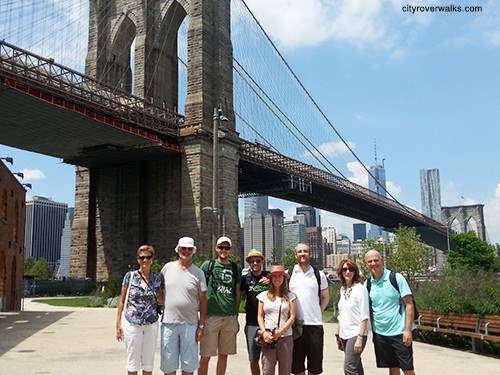 So please join us and find out why the Brooklyn Bridge was dubbed the "8th Wonder of the World" when it opened in 1883.  We will uncover the tragedies and triumphs that went into its construction, as we cross the oldest suspension bridge in New York City on this scenic and eye-opening 3-hour walking tour.
The tour starts near City Hall Park in Downtown Manhattan, where we will discover some famous landmarks like the Woolworth Building (once the world's tallest skyscraper), City Hall, and the tragic story of the pretty woman behind "Civic Fame".  We'll also find time to rewind the clock to the American Revolution to see where the Declaration of Independence was read to New Yorkers for the first time and where George Washington staged his "midnight escape."
Once in Brooklyn, we'll explore Dumbo, Brooklyn Bridge Park, and Brooklyn Heights.  Besides learning a lot about Brooklyn, once America's 3rd-largest city, we'll have phenomenal photo opportunities and stop for delicious chocolate along the way.
Before the end of the tour in Brooklyn Heights, We will visit the Brooklyn Heights Promenade, which offers unrivaled views of the harbor, Statue of Liberty, Ellis Island, and the Lower Manhattan skyline.  Enjoy fantastic photo opportunities in the late afternoon light.
Recent Reviews For This Tour:
"Another insightful tour" Reviewed June 5, 2014 on TripAdvisor
"There is nothing like discovering a city with the help of an enthusiastic and knowledgeable local and Max from CityRover certainly is both those things. I recently took the Brooklyn Bridge Tour and enjoyed every moment of it. Max was informative, very personable and, despite the rain, never wavered in his enthusiasm. We stopped for snacks and drinks along the way, so that by the end of the tour everyone was great friends. Altogether a wonderful experience."
"BEST TOUR EVER!" Reviewed April 21, 2014 on TripAdvisor
"We took the Brooklyn tour with Max and we had the best time ever! Max was informative, entertaining, and made you feel that you were with a friend. The pace of the tour was good and the snacks we had were delicious! I am recommending this tour to anyone and everyone. We plan on taking all his tours next time we are in NYC! A MUST DO IN NYC."
---
Additional Tour Info:
What About Kids? Our public tours may not be appropriate for young children, as they involve a lot of walking and cover topics geared to adults.  Further, some of our tours reference adult content some parents may deem inappropriate for children.  On this particular tour, references may be made to bodily injury, death, crime, and scandal.   That said, there are 2 "child" tickets available for each public tour for children aged 12 and under.

Meeting Point: Detailed meeting point instructions will be emailed to you once your reservation has been processed.  Please note that the tour usually ends in Brooklyn Heights, Brooklyn (so we only cross the Bridge one way).  Therefore, we recommend using public transportation to get to the meeting point (vs. driving).  Directions on how to get back to Manhattan (a quick trip), as well as Brooklyn dining recommendations, will be provided at the end of the tour.
Are gratuities included? Guide gratuities are not included in the tour price, so if you enjoy your tour, tips are very much appreciated.
Are snacks/refreshments included in tour price? Each tour participant will be treated to a delicious chocolate bon-bon from Jacques Torres Chocolates as well as a finger-lickin' Belgian waffle from Wafels & Dinges.  In addition, each participant will be offered  a complimentary bottle of water.
Is this walk strenuous? This walk is mildly strenuous.  We cover approximately 3 miles in 3-3.5 hours.  Participants will walk across the Brooklyn Bridge, which has a slight uphill component in the beginning (about 1/4 mile).  Also, towards the end of the tour, participants will walk up a short trail bridge to get to Brooklyn Heights.  That said, the pace of this tour is moderate, so no one will feel rushed.  As a general gauge, if you are able to walk up one flight of stairs without having to stop, then you should find this tour suitable.
---
Parting Words:
What comes to mind when you think of the Brooklyn Bridge? Perhaps it's the Lexus commercial from 1997 in which Joe Pesci does the voice for the Bridge? Or maybe its the calamitous scenes in countless science fiction and action movies where the Brooklyn Bridge is either blown up, ripped up by a giant sea monster, or destroyed by an enormous tidal wave?  If you are a fan of the Blue Man Group, perhaps you've seen this creative video, in which the Bridge is used as a percussion instrument.
But the Brooklyn Bridge isn't just a famous backdrop for Hollywood studios, ad agencies, and entertainers.  It is a 130-year-old marvel of design and engineering.  It's two Neo-Gothic towers were once the tallest structures on either side of the East River.  It was also by the world's longest suspension bridge when it opened on May 24, 1883 — connecting the largest city in America with the third-largest.  In fact, it was such a huge achievement that it was quickly dubbed the "8th Wonder of the World" and Brooklyn's mayor, Seth Low, declared opening day "People's Day".  Everyone had the day off and more than 150,000 people crossed this colossal beauty on opening day (for a penny toll), including America's president at the time, Chester A. Arthur (who didn't have to pay).  Several dignitaries and politicians gave speeches on the Bridge that no-one could actually hear (this is before microphones), ships blew their whistles, and there was a beautiful fireworks display at night.
But behind the celebration lies the oft-tragic 14-year construction process, which claimed many lives, including the life of the original engineer, John A. Roebling, and ruined many more.  The Brooklyn Bridge was built by brave, hard-working men and this tour is also about their story.