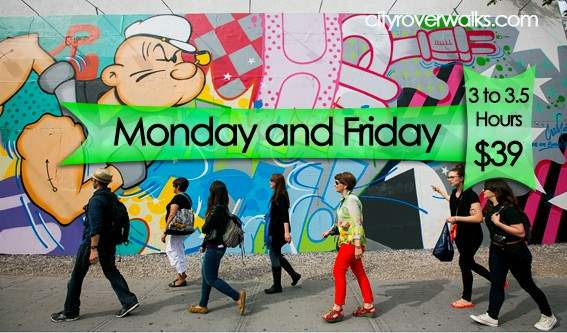 ---
Tour Highlights:
• Join a fun and informative tour of the East Village, Little Italy, and SoHo, with historical anecdotes ranging from Peter Stuyvesant to Joey Ramone
• Enjoy an authentic Jewish pastry at a kosher bakery (c. 1972), and Sicilian cannoli at an Italian pastry shop (c. 1891)
• Learn about the immigrant waves that shaped NY, from Kleindeutschland and Little Italy to the Jewish Realto and Little Ukraine
• Discover SoHo, the historic Cast-Iron district, with its industrial and artistic pasts and trendy boutiques
Basic Tour Info:
• Start Time: Select Mondays and Fridays at 10am until December 27. Available for private booking year-round.
• Length and Distance: 3 to 3.5 hours and we cover about 3 miles on foot (5 kilometers)
• Cost: $39 for adults, $25 for kids 12 and under
• Size: Maximum group size is 12 adults
• Language: Our tours are currently offered only in English
• Break: There will be 1 bathroom break
• Private Option: This tour is also offered privately
• Location: Starts near Astor Place in Lower Manhattan (you will receive detailed info after booking), ends in SoHo near Broadway (you will be given directions) and near great places for lunch or a drink
The CityRover Promise:
• An interactive, informative, and fun tour, with memorable stories and great photo opportunities
• No more than 12 adults, no flags, no microphones, no memorized scripts, no canned jokes, no notes
• An engaging, knowledgeable and licensed CityRover guide
More about this tour:
New York City is a city of change.  This goes a long way in explaining the multiple layers of history we can uncover in any given square mile of land, especially in Lower Manhattan – a portion of the city which has arguably changed most dramatically and frequently.  And that is exactly why we have designed this tour.  We will peel back those layers, revealing a kaleidoscope of interesting characters, authentic ethnic eats, historic (and sometimes tragic) turning points, an incredible array of architecture spanning several centuries, and the cultural and immigrant history behind it all.
And, as on every CityRover walking tour, we will explore the nooks and crannies, share stories you won't find in a guide book, keep things fun and intimate, and leave you with the knowledge and confidence for further self-exploration.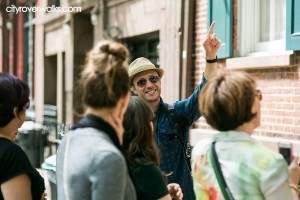 Recent Reviews:
"An Unusual Viewpoint of Manhattan" Reviewed August 22, 2013 on TripAdvisor
We have booked the tour of a part of Lower Manhattan (Village, Little Italy, Cast-Iron District), as a family of four people. We were particularly interested in getting in touch with historical Manhattan, being convinced that this needs an expert guide to be fully appreciated.
To us all the tour was beyond expectation and we greatly enjoyed the richness of detail of the talks, the unconventional point of view of our guide, his wit and the many touching stories that accompanied the 3-hour visit.
Max is a brilliant and entertaining speaker and has a deep knowledge of the complex story of the various communities that gave shape to Manhattan as it is today.
Not to be missed when in NY, especially if one belongs to one of such communities (i.e. Italians, Germans, Jews)!

"Still the Gold Standard!" Reviewed July 27, 2013 on TripAdvisor
City of Dreams Walk. Lower East Side. The lives of so many, intersecting, just like the streets. Many, strangers in a strange land, living day to day and creating today's cultural backdrop. The tour is set at a very relaxed pace, walking and talking, taking shade under the awnings and trees, zigzagging between street corners to take in the sites and listen to history unfold. From parkettes and tenements to greenery bursting out of burned out building lots, local theatre, music & art, shopping and food, this walkabout has it all.

Danielle was a delight and certainly brought a personal touch to the tour as well as an artistic perspective. There were plenty of interesting stops and all in just the right measure. This was our 3rd walk with CityRovers and it was truly a charm!
Parts of the following areas will be explored:
East Village
The Bowery
Little Italy/NoLiTa
SoHo
---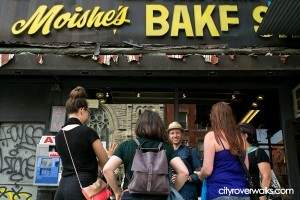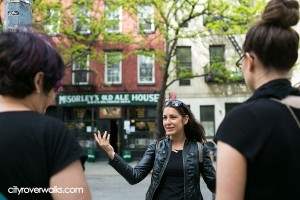 Additional Tour Info:
What About Kids? Our public tours may not be appropriate for young children, as they involve a lot of walking and cover topics geared to adults.  Further, some of our tours reference adult content some parents may deem inappropriate for children.  That said, there are 2 "child" tickets available for each public tour for children aged 12 and under.
Meeting Point: Detailed meeting point instructions will be emailed to you once your reservation has been processed.  Please note that the tour starts near Astor Place in the East Village and ends in SoHo (not at the start point).
Stops: We normally make 2 pit stops on this walk for snacks (and 1 bathroom break), which may include the following great local establishments, but may be substituted for other local gems at CityRover's discretion:
Moishe's – A Kosher bakery serving traditional Jewish baked goods and pastries since 1972
Caffe Roma – Serving Italian pastries and espresso since 1891
Note: In case of bad weather, we may visit McSorley's Old Ale House (circa 1854) for an optional pint of beer (not included in tour price).
Are snacks/refreshments included in tour price? Although this is not a food tour, the cost of the food-related snack stops we make is included in our tour price.  In addition, each participant will be offered a complimentary bottle of water during the walk.  If you have any dietary restrictions or specific food allergies, please contact us prior to booking.

---